Savings Accounts
Sound money management begins with a quality savings account. Find the one that's right for you.
Personal Savings Accounts
Simple Savings
Earn interest and get six free withdrawals per quarter. There's no minimum balance requirement and you can open with just $75. There is a $2.00 per item fee for withdrawals over six per quarter.
Lucky Duck Savings
Perfect for children 12 and under. Just $15 to open and no monthly service fee. Your kids will earn interest and can make up to six withdrawals for free each quarter.
Christmas Club
Give yourself a Christmas Bonus. Enroll at any time and make deposits whenever you wish. You'll automatically get a check for the amount you saved by the second week of November, just in time for the holidays! There is a penalty of $5 if you withdraw the money early.
CD's
We have many options when it comes to Certificates of Deposit. Choose from a variety of maturities ranging from 3 Months to 3 years in length. Whether you would prefer a monthly, quarterly, annually, semiannually or compounded at maturity frequency, the choice is yours. Contact your local branch for current rates.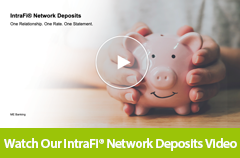 ---

*Federal law prohibits excessive debits on savings accounts. Excessive activity is defined as more than six withdrawals per month from outside the bank.

Business Savings Accounts
SEP IRA-Simplified Employee Pension Plan
If you're self-employed or own a small business, the SEP IRA might be the right solution for your retirement plans. As an employer, you can make tax deductible contributions directly into the IRA for all eligible employees.
SIMPLE IRA : Savings Incentive Match Plan for Employees
This is a small-business retirement plan in which employees and employer may make pre-tax contributions and receive matching employee contributions.
IRAs
Always consult with your Tax advisor.
Traditional IRA
Make your contributions pre-tax so you'll have more money to invest. You won't pay taxes until you withdraw during your retirement.
Roth IRA
Make contributions after taxes and you'll never owe taxes and all the growth will be tax-free. This is especially useful if you're in a higher tax bracket at retirement than you are now.
TAX Benefits
Always consult with your Tax advisor.
Health Savings Account
As health care costs skyrocket and insurance deductibles increase, a Health Savings Account lets you put aside money tax-free to be used on approved medical needs. Unlike a Flexible Spending Account, funds roll over and are perfect for people with a high-deductible health plan. We also provide you with a HSA debit card for free when you open your account. Deposit amounts are set under current tax law.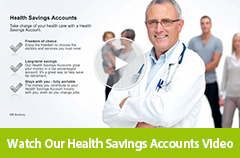 Coverdell Education Savings Account
Get tax-free earnings on your child's education savings with the Coverdell, an education savings plan for children up to age 18. Parents may make non-deductible contributions up to $2,000 per child per year, under current tax law.. The earnings are tax-free when used for qualified educational purposes.